VOHO Restaurant Group LLC
Family, Friendship… And Food!
The unlikely journey to opening GATHER began back in 2011 in the tiny Caribbean island of Nevis, where Tim and Meredith ran (and still operate) a small exclusive hotel that is regularly ranked among the top destinations in the Caribbean.
While in Nevis, the Hoffman's hired Benjamin as their Executive Chef.
Ben, who was Executive Chef at the Hyatt Regency La Manga in Spain at the time, quickly jumped at the chance. Ben and his girlfriend Valeria joined the Hoffman's in Nevis, and their close working relationship quickly blossomed into a friendship.
In 2014, the Hoffman's began to discuss relocating in order to provide better education opportunities to their children.
They quickly settled on Southwest Florida because the warm, laid-back climate and the friendly people, who reminded them of their island home.
There was only one problem:
When the opportunity to take over The Joint and Run Agrounds at Cape Harbour came up, Tim and Meredith decided they were only interested if Ben and Valeria would agree to join them.
The four officially became partners, moved to Cape Coral, and went to work refreshing and re-launching The Joint and Run Agrounds as Fathoms and The French Press respectively.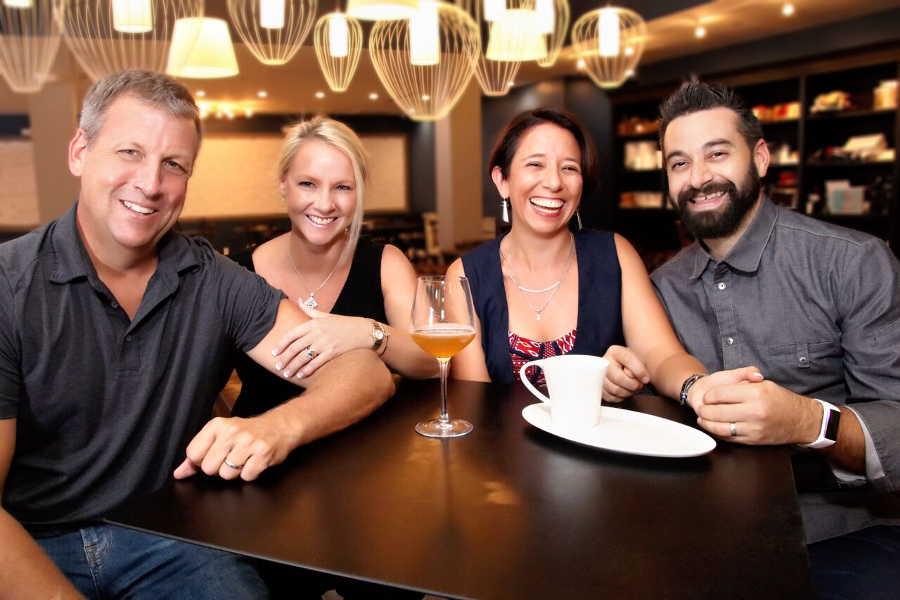 Although the menus, the décor, and the quality of the food have changed, one thing pretty much stayed the same:
The people.


"Steve Jobs was a genius because of the people he surrounded himself with," Tim said. "We found lots of amazing people already working at our Cape Harbor locations when we came in... And we begged them to stay and join our family!"
This feeling of family doesn't just apply to the team, but to guests as well.
The partners are grateful to have several regulars that visit 4-5 days a week, and they understand that it isn't just for the food. It's for the family. The atmosphere. The sense of belonging. Clearly, the partnership these four have formed over the years is based on more than just work.
"We wouldn't have committed to Cape Harbour without Ben and Val," added Meredith. "And we wouldn't be doing GATHER without Fabrice, Sue, Jeremy, Kathy, Amber and the rest of the family from Fathoms and The French Press!"
GATHER offers fresh breakfast and coffee every morning, an island-inspired lunch, and a diverse dinner menu complete with select wines and craft cocktails.
Located next to the Westin at Tarpon Point, the warm, inviting space offers guests the opportunity to truly feel like part of this growing family.
You can also follow GATHER on
Instagram
or
Facebook
for more information, and a chance to win exclusive invitations to small-group private tastings.